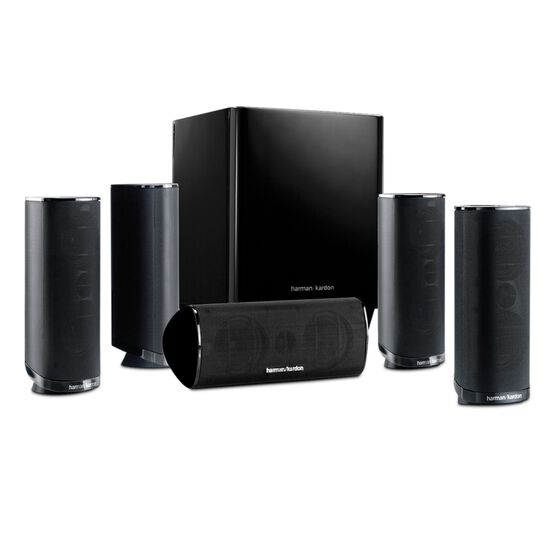 HKTS 16
Details
https://vn.harmankardon.com/HKTS+16.html?dwvar_HKTS%2016_color=Black-USA-Current
---
5.1 channels of vivid, realistic home theatre sound
5.1 Home Theatre Speaker System
As a home theater speaker package, the HKTS 16BQ/WQ has everything you need – including satellite bases, wall-mounting hardware and all necessary cables – in one box. And by including removable shelf-mount stands and wall-mount brackets for the satellite and center speakers, the system offers you great flexibility for installing the speakers in different locations.
Voice-matched, two-way, 120W satellite speakers
The HKTS 16BQ/WQ system's five voice-matched satellite speakers with dual 3-inch (75-millimeter) midrange drivers and 1/2-inch (13 millimeter) high-frequency tweeters are engineered to work together to produce a rich, realistic, all-encompassing sonic performance with convincing sound effects. You can even place these video-shielded speakers near your TV without causing magnetic interference.
Powerful, down-firing, 200W subwoofer
The HKTS 16BQ/WQ's 200-watt down-firing subwoofer with an 8-inch (200-millimeter) driver offers deep, authoritative low-frequency realism that lends a richness and believability to whatever imagery you're seeing on screen – while remaining surprisingly unimposing off screen. While viewing an action film, you hear every crash, bang and boom the soundtrack has to offer.
Stunning modern design
The HKTS 16BQ/WQ system represents a décor-friendly complement to any entertainment center or home theater. Its contemporary styling incorporates glossy, black (BQ) or white (WQ) accents, polished surfaces and elegant symmetry – elements that are clearly part of the rich Harman Kardon® design heritage. The system's compact, unobtrusive dimensions offer virtually unlimited installation options.
Bass-boost controls and phase switches for subwoofer
Controls on the HKTS 16BQ/WQ's 200-watt subwoofer let you fine-tune its bass output for your personal taste and room acoustics. Bass-boost and phase switches also allow you to optimize the subwoofer's performance, depending upon where you place the speakers. A subwoofer properly in phase with the satellite speakers generates clear, and lifelike sounds for instruments such as drums, piano and plucked strings.
Magnetically shielded loudspeaker components
Unshielded loudspeaker components can upset the magnetic field in a conventional TV, resulting in visible color shifts and possible long-term damage. But the HKTS 16BQ/WQ's magnetically shielded loudspeaker components can deliver high-quality, high-performance results even when you place them near a TV.
LFE (low-frequency effects) input connector
The HKTS 16BQ/WQ includes an LFE (low-frequency effects) input connector that bypasses the subwoofer's internal, low-pass crossover. As a result, you can use a receiver/processor's dedicated subwoofer output to provide enhanced low-end performance.
Compatible with HTFS 2 floor stands
If wall-mounting is not your preferred method of installation, the optional HTFS 2 floor stands (sold separately) set the HKTS 16BQ/WQ satellite speakers at the ideal, ear-level listening position. The aluminum-extrusion columns, which also include a self-contained wire-management system, will elegantly complementing virtually any décor.
Upgradable to 7.1 channels
If you want to move beyond the all-encompassing power of this 5.1-channel surround-sound system, you can easily add a pair of front-height or rear-channel surround loudspeakers – and hence unleash the 7.1-channel capability of your HKTS 16BQ/WQ system. The 7.1 surround-sound format elevates the impact of your entertainment experience with a richer, more thorough soundstage.
Energy-saving features
To adhere to European guidelines, the HKTS 16BQ/WQ system uses low standby-power consumption – less than 1 watt – and includes a number of energy-efficient features. For example, an auto-power on/off function automatically controls the subwoofer in response to a relayed voltage or an audio input signal. (If the subwoofer receives no audio signal for 15 minutes, the subwoofer automatically shuts off.) By meeting such "green" standards, this speaker system keeps sound quality high – and your power bill low.
Compact, 5.1-channel, 120W home theater speaker system with 200W subwoofer.
If you're going to add surround sound to your home playback system, you will want to do it once – and do it right. That's why the HKTS 16BQ/WQ home theater loudspeaker includes five voice-matched satellite loudspeakers for the center, left/right front and left/right surround channels, in addition to an attention-grabbing, 200-watt powered subwoofer. The speakers are magnetically shielded to prevent interference that can damage your television. Together, the combination creates an immersive, 360-degree surround-sound environment. We've engineered all of the system components to work together, resulting in a rich, realistic, all-encompassing sonic performance with convincing sound effects. If you want to adjust the sound, we've equipped the subwoofer with phase and bass-boost controls. We've even made the system compatible with HTFS 2 floor stands that raise your speakers to ear level, and you can expand the system from 5.1 channels to 7.1 for an even more encompassing sonic experience. The system looks beautiful, too; it's available in streamlined, glossy black or white to fit into any décor. By delivering movie dialogue, music and effects in this high-quality fashion, the HKTS 16BQ/WQ ensures that you'll have a best-in-class cinema experience while it elevates your home theater from the ordinary to the truly extraordinary.
Sharing